FITNESS CLASSES
I offer a Circuit Class  at Warnham Village Hall on Tuesday evenings between 6.20 and 7.20pm. I have started a Kettlebell Class at Bodywise Gym and Studio in Warnham on a Wednesday evening from 7-8pm. The Kettlebell Class is called Kettlercise®. Have a look at the video link on my website for a preview. Call me on 0794 1898372 to discuss your needs and which class I recommend for you.
Kettlercise® (Kettle Bells)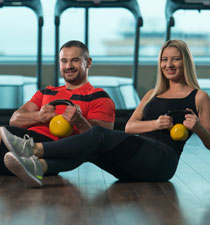 One piece of equipment, one goal – fat loss just got simple! This programme of high intensity exercise offers excellent calorie burning.
Class Times
Bodywise Gym and Studio, 16 Church Street, Warnham. Between 7 and 8pm.  contact me if you would like to be updated.
Circuits
60 minute class, high intensity, calorie burning exercise. I ensure that there is a good variety of exercise within each class and from week to week so that it stays interesting and fun.
Class Times
Tuesday 6.20 – 7.20pm, Warnham Village Hall
Read more about our circuit training classes.  contact me if you would like to know more
For friendly advice on fitness classes call Lorraine on
01403 251360

or send an email